Take over control over your extraction system with the ControlPro
A filter system should run fully automatically and in a way that fits the specific work situation of the user. This is exactly what the ControlPro does. This intelligent platform will give an indication with clear instructions when attention or action is required.
The ControlPro has an intuitive touch screen interface that shows at a glance how the system is performing, what the system is doing now, will do next and how to keep it in shape.
Recommended for
Features
Control your extraction system automatically
Allows adaptability and easy configuration to your specific situation
Intuitive touch screen interface
Access to IIoT cloud service ControlPro Connect
Simple
ControlPro can control your extraction system automatically. The extensive and easy-to-access menu options allow adaptability and easy configuration – now and in the future.
Insight
An intuitive user interface shows at a glance how the system is performing. Any remedial action required is clearly indicated together with step-by-step actions to correct any issues.
Connected
ControlPro uses web-linked communication for a wide variety of connectivity options. It allows remote support and control of multiple systems, by smartphone, tablet and desktop.
Reduce operation costs
The ControlPro has standard features that in combination with the fan controller (Variable Frequency Drive*) save energy, often up to forty percent, and stretch filter cartridge life.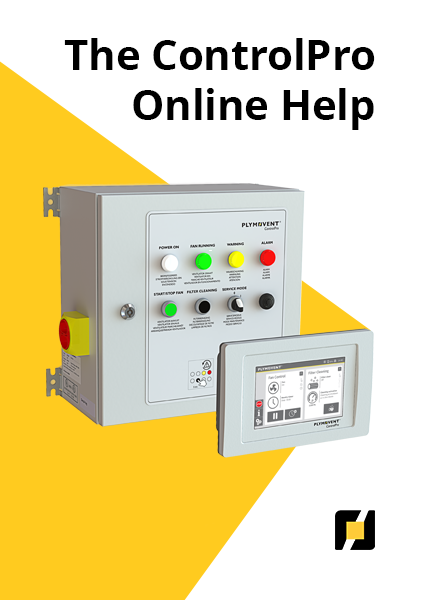 For all you need to know about the ControlPro, you can visit this platform.
Didn't find what you were looking for?
Our experts will be pleased to help you find a solution for your unique situation! Click here to get in touch with them.
ControlPro/Panel
Physical dimensions and properties
Material (housing)
sheet metal
Dimensions
400 x 400 x 210 mm (15.7 x 15.7 x 8.3 in.)
incl. switches and cable glands
435 x 425 x 240 mm (17.1 x 16.7 x 9.4 in.)
Weight (net)
11 kg (24 lbs.)
Inputs
8x
digital input (10 mA wetting current)
3x
analogue input (4-20 mA)
Outputs
2x
relay output (max. 30 VDC, 2,5 A)
2x
output "low-side switch" (24 VDC, 2,5 A)
1x
output "low-side switch" (24 VDC, 250 mA)
4x
output "low-side switch" (24 VDC, 30 mA)
1x
analogue output (4-20 mA)
Internal connectors
2x
CAN + power (ControlPro/HMI & Control/ SlaveBoard)
1x
RS-485 (Modbus) to frequency inverter (19200,8N1)
1x
USB 2.0 (host only, USB A receptacle)
1x
ethernet (for service purposes)
1x
RS-232 (for service purposes)
Internal pressure sensors
2x
integrated pressure sensor Working range 0-4000 Pa (0-16 in. WG)
Electrical data
Input voltage
100-240 VAC, 50-60Hz
Internal operating voltage
24 VDC
Power consumption
max. 60W
Ambient conditions
Operating temperature pressure sensors
internal
Operating temperature pressure sensors
external:
Max. relative humidity
80%
Outdoor use allowed
Outdoor use allowed yes
Storage conditions
-20-50°C (-4-122°F)
ㅤ
relative humidity max. 80%
ControlPro/HMI
Physical dimensions and properties
flammability standard
UL94 V-0
Dimensions
255 x 165 x 125 mm (10.0 x 6.5 x 4.9 in.)
Weight (net)
900 g (2 lbs.)
Display:
type
resistive touch screen
resolution
800 x 480 pixels
Available languages
Available languages
External connectors
1x
CAN + power (connection to Panel) [M12-5p shielded connector]
1x
USB 2.0 (host only) [USB A receptacle, with dust cap]
1x
ethernet 10/100 Mbit/s [RJ45, shielded, with dust cap]
Electrical data
Operating voltage
24 VDC (+/- 15%)
Power consumption:
display off: nom. 4W
Ambient conditions
Storage conditions
0-50°C (32-122°F)
ㅤ
relative humidity max. 80%
General
Where used
MDB PRO
central filter system
SCS PRO
central filter system
SIF (Outdoor)
extraction fan
FRAME SIF
fan mounting frame
Fan control equipment:
VFD/Panel (preference)
frequency inverter
VFD / other type
frequency inverter (third party)
star-delta switch
fan start/stop
Fire safety solutions:
ShieldControl
fire detection panel
Sliding valves
pneumatic shut-off sliding dampers
3/2 solenoid valve
release valve
Options and accessories
Panel to HMI cable 60 m
instead of standard 15 / 30 m
ControPro Connect
advanced web portal
i-Connect (+ Extension)
module to connect ControlPro to the web portal of Plymovent
PT-1000 or PT-2500
external pressure transmitter
Dustbin level indicator
switch or sensor (future development)
Scope of supply
ControlPro forms an integral part of the filter systems MDB PRO and SCS PRO
ControlPro/Panel
Panel (control panel) | Double-bit key | Mounting bracket (4), incl. mounting material | Pneumatic hoses (for filter & fan pressure), incl. mounting material | Installation manual | Electrical diagram | UL compliance sticker
ControlPro/HMI
HMI, incl. bracket and locking screw | Ethernet field connector (IP 67)
Panel
HMI cable*), incl. heat shrinking tubes
Panel
SlaveBoard cable, incl. cable gland, termination plug and heat shrinking tubes
*) MDB-4 PRO to MDB-24 PRO: 15 m (49 ft.) | > MDB-24 PRO: 30 m (98 ft.) (option: Panel to HMI cable 60 m / 197 ft.)
Control/SlaveBoard (Integrated on MDB)
Filter system to Panel
max. 10 m (32.8 ft.)
Panel to HMI
max. 60 m (197 ft.)
Order information
ControlPro forms an integral part of the filter systems MDB PRO and SCS PRO
Features & Benefits
Simple
Simple installation, configuration and operation
Fully automatic operation (due to weektimer and automatic progressive filter cleaning)
Insight
... in what the system is doing now
... in what the system is doing next
... in the overall system performance
Connected
Centralized control for multiple systems
Control from any mobile device
HMI with intuitive touch screen
Clear and easy accessible menu structure
Frequency inverter VFD/Panel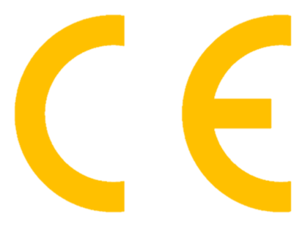 The ControlPro is in accordance with the following directives:
EMC 2014/30 EU
LVD 2014/35 EU
EN 61000-6-2
EN 61000-6-4
IEC 60204-1
IEC 61131-2
IEC 61439-1